Ireland Travel, Unusual Places to Visit
These Ireland travel articles are from my own trips over, and from Irish friends who've helped me locate "hidden gems."

The more involved I've gotten in Ireland, the more amazed I am by the
variety
of things you can see and do there. There are articles about
remote Irish islands
(which I love), new
gourmet food farms
in West Cork,
luxury castle-hotels
, and even a
lighthouse keeper's cottage you can rent
on Clare's rugged coastline.
Click to your area of interest:

East Southwest Northwest Northern Ireland
Travelogues
Ireland Travel: EAST
Kilmore Quay
Kilmore Quay, in County Wexford, is a pocket of the Old World, in a place where you'd least expect to find it.
Doing Dublin on a One-Day Layover
Before heading off to parts rural, take this quick and easy tour to enjoy the "fair town."
In Wicklow, a Winter Escape to the Valley of the Two Lakes
The stunning beauty of Glendalough, in County Wicklow, makes it a great day trip from Dublin.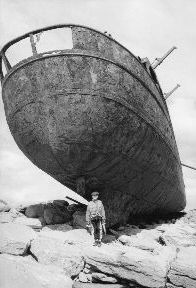 A Legendary Guesthouse in County Kilkenny
The Cullintra B&B is a legend in Ireland travel, known for its unusual combination of great cuisine, lavish décor and joyfully eccentric management. The one caveat: you'd better like cats.
Kilkenny's Medieval Treasure Trove
A journey back in time that you can take in easy walk through town.
Bright Moments at Newgrange
The ancient lightshow on New Year's morning at the megalithic tomb is unique, and tough to get a ticket to.
New Ross
A Wexford town with strong ties to the American Kennedys.
Art in Words: Dublin's Amazing Trove of Manuscripts
Chester Beatty was born in America and knighted in Britain, but left his world-class collection to the Irish.
Ireland Travel: SOUTHWEST
Solitude on Spanish Point
Shipwrecks and "black Irish" legends on a beautiful strand in Clare.
West Cork's Specialty Food Producers
Farms that produce organic cheeses, meats and other delights have helped revitalize rural West Cork. It's a great place nowadays for a food tour.
Loop Head: Clare's Secret Peninsula
A place with amazing scenery, a "far-away" feeling, and a lighthouse you can stay in.
Cape Clear Island
Ireland Travel: A serene getaway off the coast of West Cork.
The Last Harbor
Cobh, a cheerful town in Cork, has a complex relationship with the sea.
Limerick in a Warmer Light
A city with a tough reputation, remembered fondly by one who grew up there.
Where to Spend the Night
Near Shannon
Hotels and B&B's in all price ranges, for that first night of Ireland travel or last night before coming back home.
Harbour Sunset Farm, Liscannor
An outstanding kid-friendly farmhouse, in an undeveloped landscape near The Cliffs of Moher.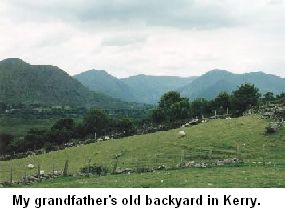 Return to Inisheer
25 years after my first visit, the smallest Aran Island still had it's mystique.
Ireland Travel: NORTHWEST
Saddling Up in the Wild West of Donegal
Thanks to one couple, American-style riding on Quarter Horses is a hit with the Irish.
Donegal's Camelot
Glenveagh Castle: In a solitary northern setting, a kingdom with an American touch.
Easy Over on Inishbofin
A northwestern island retreat is a great place to recharge, amidst all the comforts of home.
A Trip Through Mayo, For the Family
From medieval farming to 007's wedding church, the Castlebar area has something for the everyone in the family.
Off Road in Connemara
On the way to Clifden, try a detour to some very unusual beaches or take the "sky drive" along the rugged Atlantic.
A Briny Bath for the Ultimate in Relaxation
Spartan seaweed baths were once popular in Ireland. Nowadays you can soak your toxins out amid music and soft lighting. The seaweed is the only thing that hasn't changed.
Ireland Travel: NORTHERN IRELAND
Derry Takes Off
With 45% of the city's population under 25 years of age, the nightlife is absolutely jumping.
Ireland Travel: TRAVELOGUES
The Accidental First Class Tourists
A dream tour to Glin Castle, The Park Hotel, Marlfield House and other luxury haunts, in a chauffered Mercedes.
Great Stop or Irish Tourist Dive?
Going to Ireland for the first time? Our writers tell which popular tourist spots are still worth a visit, and which have truly earned the label "dive." The Cliffs of Moher, Blarney Castle, Ring of Kerry, Bunratty and Ireland travel favorites.
Buying Antiques in Ireland
An expert's tips on hunting for authentic pieces of furniture, pottery and glass.
Driving in Ireland
It's getting better. But narrow roads and an old-world licensing system mean you need to be careful.
If you plan to visit Ireland then you may want to work out your Ireland travel itinerary ahead of time. When you travel in Ireland you don't want to miss anything by messing up your Ireland travel plans.