Ireland Travel Tips
As an American, do I need a passport to travel to Ireland?

Yes. You'll require a valid US passport to enter The Republic of Ireland or Northern Ireland. For further information, contact The Embassy of Ireland at (202) 462-3939 (www.irelandemb.org) or The British Embassy in the US at (202) 588 6500 (http://ukinusa.fco.gov.uk/en).
Is it safe to visit Northern Ireland?
Few tourists have ever been affected by "the troubles" in Northern Ireland. The city of Derry, in particular, has become a vibrant tourist destination in recent years. According to statistics from the U.N. International Crime Victimization Survey, Northern Ireland has one of the lowest crime rates in Europe (lower, in fact, than the crime rate in the US!).
Will I be able to read the road signs in Ireland?
Most road signs in Ireland are in Irish and English. In a few Irish-speaking (Gaeltacht) areas, they're in Irish only. As Ireland is currently migrating to the metric system, you'll see new green and white signs in kilometers, along with older black and white signs calibrated in miles. Most signs in Northern Ireland are in miles only.
What are the communication facilities in Ireland?
There are various options to make calls to Ireland and from Ireland. You will frequently come across Internet Cafes while touring of Ireland, where you can send emails, chat or make PC to PC calls. Also, the prepaid phone card is one of the most economical ways to call home. Pre-paid cards are easily available in Ireland. Another option is to go with prepaid phones or mobile phones. Some service providers offer international calling at cheap rates. There are also mobile phone rental services available in Ireland.
Is Smoking Prohibited in Ireland?
In the Republic of Ireland, smoking is now banned in pubs, restaurants and café's (though there has been a good deal of debate about possibly repealing the smoking ban in pubs). It's perfectly legal to smoke outdoors, and in private hotel rooms. Smoking is still allowed in pubs and restaurants in Northern Ireland.
What kind of currency is used in Ireland?
The Euro is the currency of The Republic of Ireland, while the Pound Sterling is used in Northern Ireland. ATMs are widely available today in cities in Ireland, though less available in the countryside. You will be able to use all Irish ATMs if you have a Plus/Visa or Cirrus/Mastercard. Most American credit cards are accepted in hotels, restaurants, gas stations, etc.
Do I need medical insurance to travel in Ireland?
It is highly advisable to have your own medical insurance when traveling in Ireland. Check with your insurance carrier about your coverage before visiting.
What are the rules on driving in Ireland?
Driving in Ireland is done on the left-hand side (often called by Americans "the wrong side") of the road. It takes some getting used to. You can drive legally with a valid US license. Seat belt wearing is required for all car occupants, and children under 4 must have appropriate child restraints. Be aware that there have been major crackdowns on both speeding and drunk driving in Ireland in recent years. Many rural roads are still dangerously narrow and winding, so be particularly careful in the countryside.
What's the Irish climate like?
Quite simply, it rains a great deal. Showers, however, are often short and the temperature is generally mild. In summer, temperatures range from 60 – 70 degrees fahrenheit, while fall and spring days are usually about 65 degrees. Winter temperatures are often in the mid forties fahrenheit, and snow is rare.
When are pubs and stores open?
Most stores are open from 9am – 6pm Monday to Fridays, and many stay open until 8pm on Thursday evening. Pubs open from 10:30am to 12:30am on Friday and Saturday and until 11:30pm other nights. Some pubs with music stay open until 2am. Banks are open Monday-Friday 10am-4pm (until 5pm in Dublin). In small towns, banks often close for lunch from 12:30pm-1:30pm.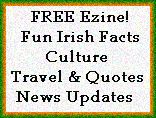 Tipping
The customary tip in Ireland is 10 to 20 per cent. Many hotels and restaurants add it in the form of a service charge on the menu or bill. It's not customary to tip in pubs unless you have table service. Tipping porters, taxi drivers, hairdressers etc is a good idea.
What taxes do I have to pay?
Ireland has a value added tax (VAT) that can be as high as 21% on some goods. The tax in restaurants is 17%.
You may be entitled to a tax refund as a non-European Union visitor to Ireland, on goods bought in stores that display a "tax free shopping" sign in the window. To obtain a refund, complete a valid tax refund document on departing the European Union. A customs officer must check the goods and validate your document. In some cases, you can receive a refund at the airport, while in others you may have to mail the validated tax refund document to the store where you bought the goods, so they can send you the refund.
Can I Get to Ireland by Ferry From the UK or Continental Europe?
Ireland has several ports with ferry connections to the Isle of Man, Wales and France. The shortest crossings from the UK are from Holyhead, in Northern Wales, to either Dublin or Dun Laoghaire (just south of Dublin). Ferries also run from Liverpool to Dublin. From southern England, you may prefer a new ferry route that's opened from Swansea to Cork - a great jumping off point for Ireland's famed southwest coast. Other UK crossings are from Fishguard, Wales to Rosslare, in the southeast corner of Ireland, and to Belfast from either the Isle of Man or Liverpool. The French ports of Cherbourg and Roscoff also offer connections to Rosslare and Cork. A good site for comparing ferry rates AFerry.co.uk, with which offers ferries to Ireland
Can I bring a pet to Ireland?
It's complicated. A pet coming into Ireland (either The Republic or Northern Ireland) must spend at least six months in an approved quarantine premises, and get an anti-rabies vaccination during the quarantine.
For more information, visit Ireland's Department of Agriculture at http://www.agriculture.gov.ie or call 011 353 1 6072827.
The Department of Agriculture and Rural Development for Northern Ireland can be found at http://www.dardni.gov.uk or call 011 44 28 9052 0100
Looking for a vacation Accommodation idea? Timeshares are the perfect way to guaranty your vacation location while saving money on some of the finest resorts and enjoying generous amenities, large accommodations, and exotic locations.
Disclaimer: While we have made our best effort to get you accurate information, frequent rule changes make it impossible to guarantee the accuracy of travel information.