Ireland Fun Facts:
Be An Expert In Irish culture!

Ireland Fun Facts puts tons of interesting facts about Ireland
at your fingertips. This site is designed to serve you whether you're planning a first visit to Ireland or you've already built a deeper connection to the country. Entertain yourself here with Irish trivia, get useful travel information, and read some great, original articles about what makes Ireland's culture so unique and so alive today.
The top sections are Ireland Fun Facts, Irish Culture & Traditions,
Unusual Travel Ideas and Modern-Day Ireland.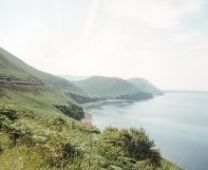 I first visited Ireland in 1975, when it was a poor country disconnected from the modern world. You may be surprised to find that today, it's one of the wealthiest nations on earth! (or, at least, it was until the current recession hit)
I hope the facts about Ireland and articles here will show you lots of subtle ways that Irish culture stays strong, even if it's hidden a beneath the surface more than it once was. Along the way, you won't find flying shamrocks and dancing leprechauns here. Irish culture is more surprising – and more fun - when you look past the kitsch imagery.
Covering What's Fun & Interesting About Ireland
I look for short, offbeat news pieces about Ireland and also do full-length articles about Irish culture. Travel stories are also included here -- mainly personal accounts of less-known destinations to visit in Ireland.
What helps make the site special is all the help I get on it from Irish experts. I've gotten the inside story on the best Celtic music by meeting and talking to John Doyle, one of the greatest guitarists ever to come out of Ireland, explored golf courses nobody knows about in Ireland like Carne with a friend who's one of the best golf tour operators in the world, and run an article about the great "gourmet farms" in West Cork, by another friend who does culinary TV shows in Ireland.
I've compiled all my best Ireland material into a book - if you sign up on the right of this page I'll send you some samples of the most enjoyable content over the next few weeks. I promise not to send you spam if you sign up, and I absolutely never sell or give e-mail addresses to anyone – ever. If you would like to see the book on Amazon.com, it's available here.
Good Craic
When I first went to my grandfather's hometown in County Kerry back in the 1970's, I got hooked on the country. Thirty two years later, Irish culture shows no signs of fading out as far as I can see. As they say, "the Craic is mighty." (find out exactly what craic is here)
Get Sidetracked Into Ireland!
Whenever you're on your way to do one thing in Ireland, you always get sidetracked into something else – and wind up having a bigger adventure than you were planning in the first place. I hope this site helps YOU get sidetracked into the sense of humor of the Irish people, as well as the history and delightful chaos of the place.
Slante
- Robert Sullivan
---
Top Ireland Fun Facts Sections